September 16th, 2021
The 11th EASN International Conference on "Innovation in Aviation & Space to the Satisfaction of the European Citizens", took place between the 1st and 3rd of September 2021. Due to the COVID pandemic, the event was held virtually.
The event has been attended by more than 420 participants from 31 countries worldwide. These facts make the 11th EASN Conference the second largest event in the series of the EASN Conferences.
The Conference included 9 Keynote Speeches given by distinguished personalities of the European Aviation & Space Community and more than 370 technical presentations distributed in 69 virtual sessions. Important is also to underline that 85 Aviation and Space projects have disseminated their latest research results as well as the future trends on the respective technological field.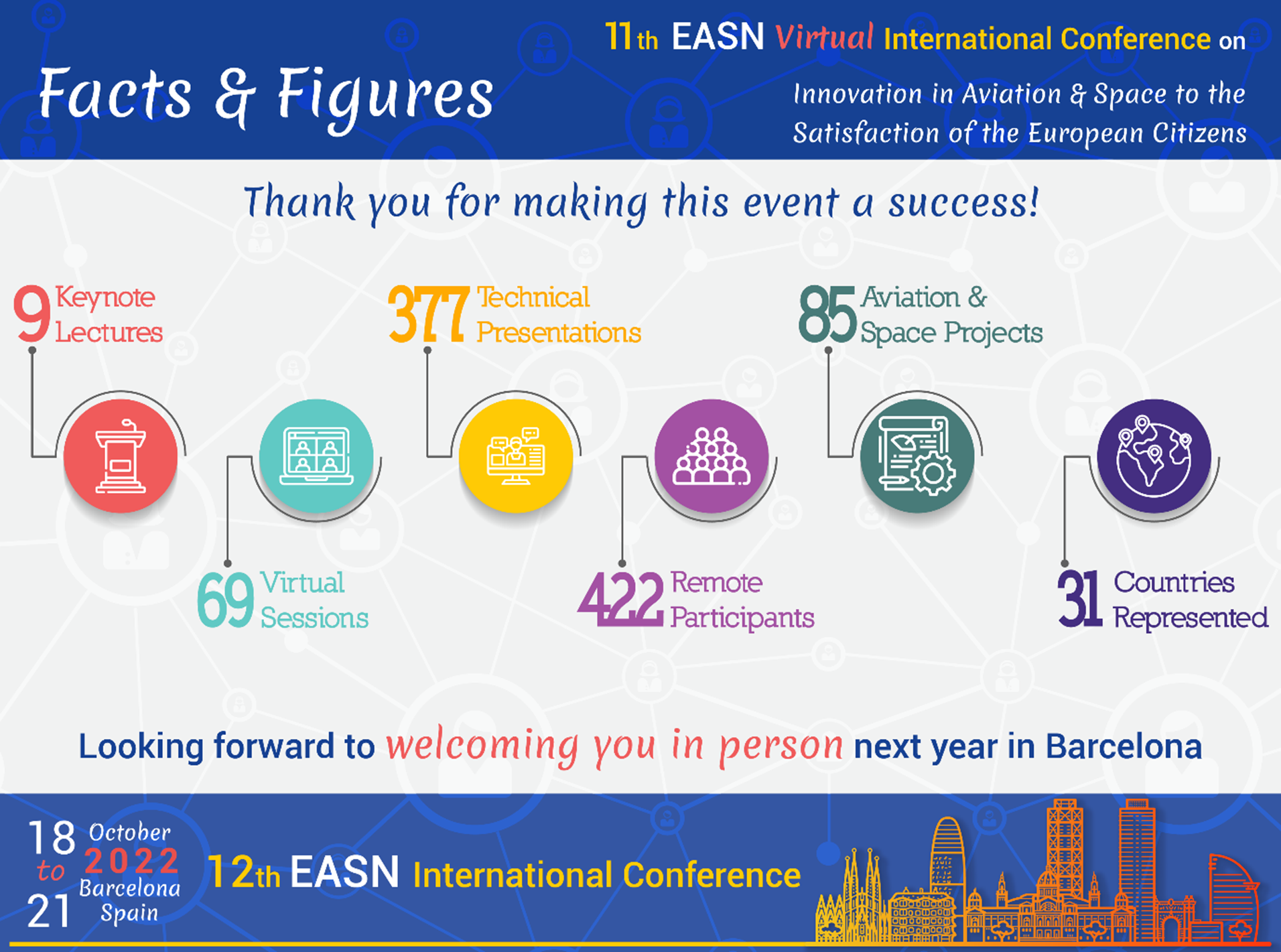 As far as the conference publication policy is concerned, the conference proceedings will be published by IOP Publishing Ltd in the respective open access volume of the "11th EASN International Conference on Innovation in Aviation & Space to the Satisfaction of the European Citizens" by IOP Conference Series: Materials Science and Engineering.
Additionally, the participants will have the opportunity to publish their works in special issues of the following reputable international scientific journals:
In this frame, the EASN Conference Team would like to seize the opportunity and cordially thank the Keynote Speakers, Session Chairs, Authors and Presenters, the members of the International Scientific Committee and all those who have contributed in making this virtual gathering a real success. It was the second time that, due to the COVID pandemic, the EASN annual gathering took place virtually and this surely represented a big challenge for the Organizing Committee, trying to offer a small contribution to Europe's efforts back to normality.
Last but not least, the EASN Organizing Committee is happy to announce the 12th EASN International Conference which will be held in Barcelona, Spain from the 18th to the 21st October 2022.